Hi all.
I have followed https://docs.tutor.overhang.io and installed Tutor.
My environment is macOS 10.15.6, Docker Desktop 3.4.0.
I operated as follows, with no erros.
% sudo curl -L "https://github.com/overhangio/tutor/releases/download/v12.0.0/tutor-$(uname -s)_$(uname -m)" -o /usr/local/bin/tutor
% sudo chmod 0755 /usr/local/bin/tutor
% tutor local quickstart

I accessed http://studio.local.overhang.io/ and added "scorm" to the Advanced Module List in Advanced Settings.
I also added a New Unit and selected the "Scorm module" in Advanced for uploading a Zip file.
My Zip file is from The Best SCORM Examples: Sample SCORM Packages, the most famous SCORM example website in the world.
I used https://21w98o3yqgi738kmv7xrf9lj-wpengine.netdna-ssl.com/wp-content/assets/golf_examples/PIFS/ContentPackagingSingleSCO_SCORM12.zip.
It seemed to work fine. However, the material outputted "Not implemented yet" as shown in the image below. This is a message when the SCORM runtime is not found.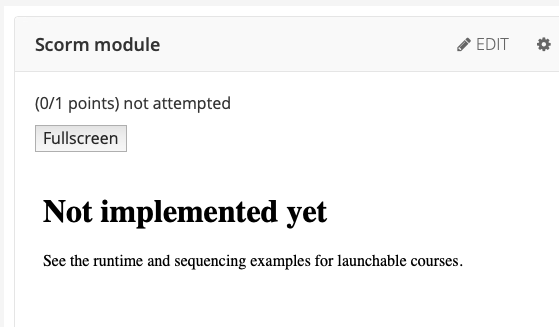 Is the above operation not enough to run SCORM materials?