Hello, we have a question regarding local development, not using real domains when setting up tutor.
We are trying to update the programs cache (tutor local run lms ./manage.py lms cache_programs), but it seems that lms can't communicate with discovery service, we configure the site configuration (which is required to run the cache_program command) with the following value: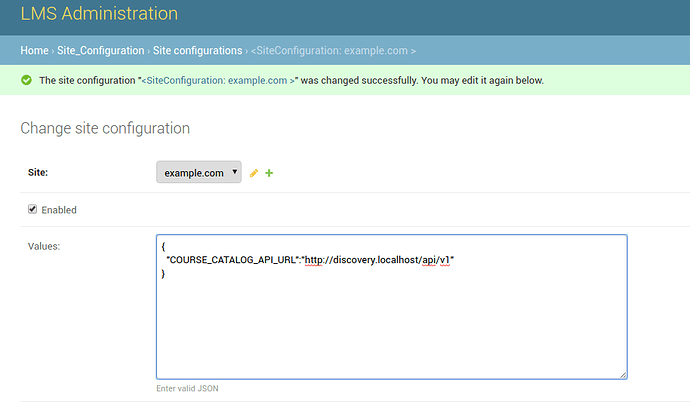 but we get:
ConnectionError: HTTPConnectionPool(host='discovery.localhost', port=80): Max retries exceeded with url: /api/v1/programs/?exclude_utm=1&status=active&status=retired&uuids_only=1 (Caused by NewConnectionError('<urllib3.connection.HTTPConnection object at 0x7f23b5f46b50>: Failed to establish a new connection: [Errno 111] Connection refused',))
When we run quickstart we didn't specify any domains for lms and studio, when we configure discovery service we set a random name to the DISCOVERY_HOST value.
I think that this issue can be reproduced by doing a fresh tutor installation, activating discovery and running the cache_programs command (which allows lms to "see" the programs).