Can someone confirm my method for enabling user retirement using the Delete Account button on the user account page?
What is the default cool off period?
How do you set the cool_off_days variable or skip the pending period?
I have tried to follow the OpenEdx Docs and apply it to using a tutor plugin.
I have created and enabled a plugin for setting the RETIREMENT_STATES (neither Discussion or Notes is enabled):
name: enable-account-retirement
version: 0.1.0
patches:
 lms-env: |
  "RETIREMENT_STATES": [
    "PENDING",
    "LOCKING_ACCOUNT",
    "LOCKING_COMPLETE",
    "RETIRING_ENROLLMENTS",
    "ENROLLMENTS_COMPLETE",
    "RETIRING_LMS",
    "LMS_COMPLETE",
    "ERRORED",
    "ABORTED",
    "COMPLETE"]
 lms-env-features: |
  "ENABLE_ACCOUNT_DELETION": true

And then populated the retirement states:
tutor local exec lms ./manage.py lms --settings=tutor.production populate_retirement_states
On pressing the Delete Account button the user is presented with a dialog box and receiving confirming they have been queued for retiring. And I can see the pending status at /admin/user_api/userretirementstatus/.
And /admin/user_api/retirementstate/ is configured as below.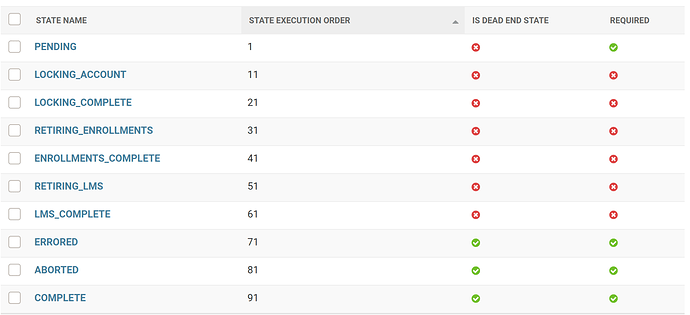 I presume that there is a default "cool_off_days" period that needs to be past before the process moves into the "LOCKING_ACCOUNT" state.
I would like to confirm that the process is working without having to wait the cool off period.
I am currently testing locally using tutor, version 10.2.0
Thanks